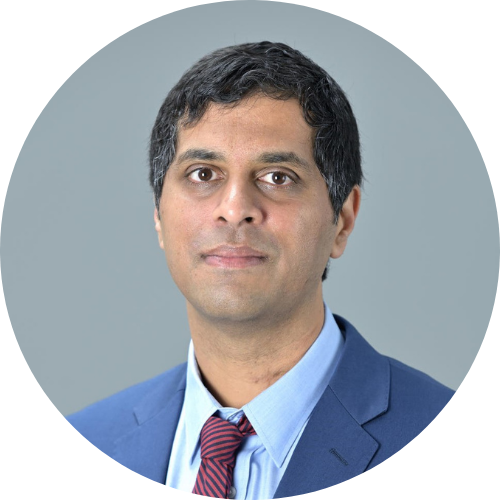 Satish Gopal, MD, MPH
Director, Center for Global Health, NCI
Opening remarks
Satish Gopal, MD, MPH, is the Director of the Center for Global Health at the National Cancer Institute (NCI). He was appointed in February 2020. In this role he oversees the development of initiatives and collaborations with other NCI divisions, NCI-Designated Cancer Centers, and countries to support cancer research and cancer research networks, promote cancer control planning, and build capacity in low- and middle-income countries. Previously, Dr Gopal has provided leadership and expertise on NIH working groups, and review committees and boards. In 2018 he was selected to advise the NCI Director on the NCI global portfolio as Co-Chair of the NCI Advisory Board Ad Hoc Global Health Working Group. Before coming to NCI, Dr Gopal was the Cancer Program Director for the University of North Carolina (UNC) Project-Malawi, in collaboration with the Malawi Ministry of Health.
Dr Gopal completed his Master of Public Health in 2000 at UNC-Chapel Hill and earned his medical degree from the Duke University School of Medicine in 2001. He then completed training in internal medicine and paediatrics at the University of Michigan, lived and worked in Tanzania from 2007 to 2009, then returned to the United States to pursue medical oncology and infectious disease training at UNC-Chapel Hill. After this, he lived with his family in Malawi from 2012 to 2019, when he was the only certified medical oncologist in a country of ~18 million people and treated public sector cancer patients at the national teaching hospital in the capital alongside his Malawian colleagues. He also returned frequently to UNC-Chapel Hill to provide clinical service in the North Carolina Cancer Hospital.
As an extramural investigator, his NIH-funded research program focused on epidemiologic, clinical, and translational studies of lymphoma and HIV-associated malignancies in sub-Saharan Africa, and he also oversaw a broad, multidisciplinary cancer research portfolio addressing many of the commonest cancers in the region, including cervical, breast, and oesophageal cancer. He has co-authored more than 90 publications and has successfully mentored many US and African cancer junior investigators. He has spoken widely about global oncology, including at the 2018 Fogarty International Center's 50th Anniversary Scientific Symposium, in Bethesda, MD. He also served as the Associate Chair for African International Sites for the NCI AIDS Malignancy Consortium (AMC), and had oversight responsibility for African activities of the AMC, which was the first NCI co-operative clinical trials group to conduct multi-centre interventional studies for cancer in the region.
Source: National Cancer Institute. "Satish Gopal, M.D., M.P.H., Director, Center for Global Health" was originally published by the National Cancer Institute: https://www.cancer.gov/about-nci/organization/cgh/about/staff/satish-gopal-bio